Beautify Your Home with Wood-Look Tile in Bradenton, FL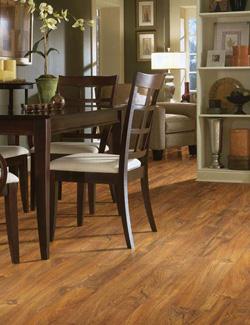 It's time to redefine your home. Let Flooring America of Bradenton show you how. We are your source for wood-look tile in Bradenton, FL. Whether you are re-flooring a single room or your entire property, you can count on us to help you plan and carry out your project with confidence. With us at your side, improving the beauty, strength, and value of your property is simple and stress-free.

Wood-Look Flooring Is a Smart Choice
With its strength, beauty, and ease of maintenance, ceramic and porcelain wood tile successfully bridge the gap between form and function. Our showroom features samples of flooring products from the leading brands. We have wood-look tile in a variety of designs and styles. Your interior design options are virtually limitless. There are many benefits to choosing this flooring for your remodeling project.
One of the most striking features of wood plank porcelain tile flooring and its ceramic counterpart is its resemblance to solid hardwood. Now, you can have the natural look and feel of popular wood species like pine, mahogany, and oak in your home. Thanks to its high resistance to moisture and humidity, wood-look flooring won't warp or shrink, either--a great feature to consider if you want to re-floor your bathroom or kitchen.
Save your time and energy doing more of what you love. Wood plank ceramic tile is a smart choice because it is easy to maintain. The special glazes and dense composition of the tile ensures it repels liquid, dirt, and dust easily.
Florida is no stranger to warm weather. Improve your home's cooling capabilities with porcelain or ceramic wood tile. Tile flooring's composition allows it to disperse heat. As a result, rooms feel cooler even as outdoor temperatures rise. Your AC won't have to work as hard to keep everyone comfortable, which allows you to save on your energy bills.

Count On Us for Total Flooring Support
You deserve picture-perfect results that stand the test of time. Allow us to complete your re-flooring project for you. Our showroom features the latest products from the leading brands, and our associates are knowledgeable about flooring and interior design, allowing you to explore all of your interior design possibilities. Feel free to ask questions, gain valuable insights, and select the flooring that best meets your needs.
When it's time to put your plans into action, leave the hard work to us. We have a professional installation team on staff. Our crew facilitates complete installation services for ceramic and porcelain wood tile. With our team, you can re-floor your entire interior with confidence. We don't cut corners, and we ensure your new flooring fits perfectly.


Contact us to learn more about our wood-look tile flooring. We are based in Bradenton, FL, and serve customers throughout Sarasota, North Sarasota, Palmetto, and the surrounding communities.