Tile Flooring in Bradenton, FL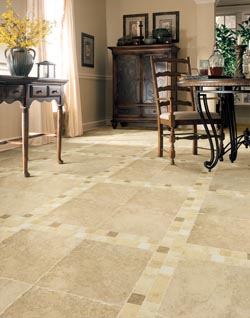 Create a unique home with the right combination of tile flooring styles, sizes, and materials. Whether you prefer the artistic route with borders or a natural slate tile, expect a comprehensive range of tile flooring styles at our store. We carry all types of tiles including ceramic, slate, porcelain, and more. Instead of undergoing a full renovation that takes months, why not invest in an update our professionals can handle from start to finish with a new tile flooring installation.


Advantages of Tile Flooring Installation
Thinking of adding tile flooring to your home? This style isn't just for kitchens and bathrooms anymore. We are happy to remove your old flooring for you and then add the new tile flooring to your space. As a store that sells the full range of tile materials, we will sift through the options with you until you find the right option for your design aesthetic.
Our sales professionals make sure you get the perfect tile flooring for your lifestyle. Once your new flooring is added to your home, you will enjoy all of the following advantages:
Low Maintenance with Easy Mopping
Color Variability
Being an Eco-Friendly Material
Being Easy on Allergy Sufferers
Preserving Your Indoor Air Quality
Availability in Options that Can Complement One Another
Design Style and Sizing to Match Every Preference
Pricing to Fit All Budgets
Lasting a Long Time, Even for Decades


Ease of Care for Ceramic Tile Flooring
One of the reasons many home and business owners are drawn to tile is its versatility and elegance. You can have a ceramic tile floor that looks like it is made from an extremely high-end stone but is made by a name-brand manufacturer that is able to mimic the look. Ceramic is easy to maintain and is nearly impervious to damage.


Get a Free Estimate from Our Slate Tile Store Today
Reach out to us today if you don't know where to start on your flooring purchase process. We are here to help you find the right tile flooring starting with a free measurement and estimate of your space. Our team comes to your home, looks at the space you want to refloor, and discusses your home décor options. After determining the best fit to suit your needs, our flooring professional estimates the cost of your new installation accurately. We understand many homeowners want to consider more than one kind of tile, so we are happy to run the numbers for each of your tile flooring options.


Get Coverage from the Ultimate Confidence Guarantee
Choosing our flooring store for your purchase comes with the added benefit of the Ultimate Confidence Guarantee. We offer one of the most comprehensive warranties in the industry. When you make a purchase with us, you get price protection for the purchase. This means if you find a lower price on the exact flooring, we are here to refund you the difference. In addition, getting installation services from us means your tile flooring is covered for its lifetime for any installation-related repairs. We make the issues right at our expense.
To find out more, simply call <PHONE>, or use the form to the right to reach us anytime you want!



Add value to your home or office when you contact us concerning tile flooring. We are proud to serve clients in Bradenton, Sarasota, North Sarasota, and Palmetto, FL, and the surrounding communities.