Accent Any Room with Durable Laminate Flooring
Laminate Flooring in Bradenton, FL
Liven up your home by shopping with Flooring America of Bradenton for new laminate flooring. The bold styles and competitive pricing of our brand-name flooring materials enable you to tie your decor theme together without increasing your budget or sacrificing quality - something we believe every homeowner deserves. When you visit our showroom in Bradenton, FL, you'll find an extensive selection of laminate flooring options that complement your decor at a price that fits any budget. We are known for offering a full selection of highly functional and visually appealing products that are designed to make every space stand out. With quality products, design expertise, and professional installation services, our team of flooring experts is here to help you enhance every room in your home with new laminate flooring. We'll be there for you at every step - from selection to installation.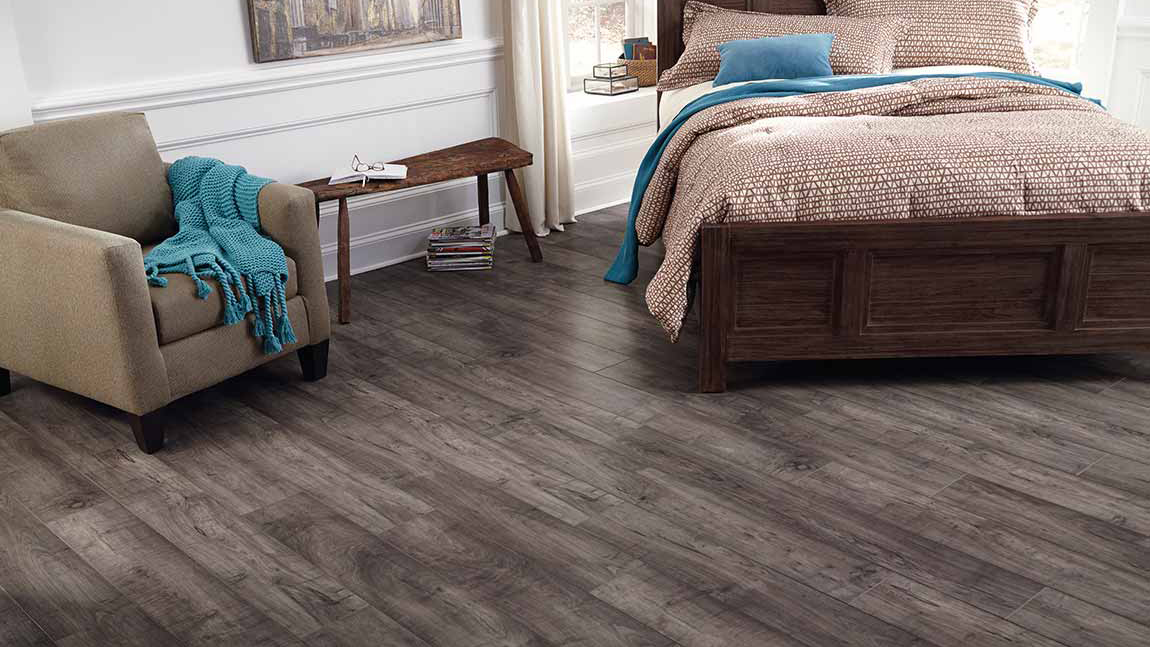 Types of Laminate Flooring
There are countless types of laminate floors available on the market. With all of these products, it can be difficult to know which one is the right choice for your home. Fortunately, our team of flooring experts is here to help make the selection process easier. We know the ins and outs of different laminate brands, the types of laminate available, how to stay within your budget, and how to match your new laminate floors with the decorative elements of your space. Discover the types of laminate we carry:
Laminate Wood Flooring

: If you dream of beautiful hardwood floors but your lifestyle and budget are incompatible, wood-look laminate flooring is the perfect substitute. This flooring combines the look and feel of natural wood with all the benefits of laminate flooring.

Laminate Tile Flooring:

While traditional tile flooring is an elegant addition to any project, many customers find tile laminate flooring better meets their budget and functional needs. Tile laminate is a popular choice for bathrooms, offering the tile aesthetic with a waterproof & scratch-proof seal.
Why Choose Laminate For Your Home?
Laminate offers so many benefits for homeowners and businesses alike. Whether you prefer the look of stone or hardwood, our selection features everything that you need to transform your home decor with exceptional functionality. Our products are designed to upgrade your space without causing you to go over budget. Learn more about laminate's amazing benefits:
Manufactured to be highly

durable and resilient.
Hygienic

and easy to keep clean.

Realistically mimics

hardwood and tile.

Scratch and

water-resistant

.

Affordable

and less expensive than its traditional alternatives.

Comes in a

variety of styles and colors

.
How is Laminate Made?
Laminate flooring is made in two ways: direct-pressure method and high-pressure method. Both methods produce gorgeous flooring that can be found in a wide variety of colors and patterns, with uncanny resemblances to natural wood and stone. Both manufacturing methods leave laminate flooring with a strong base and core that can withstand even the heaviest foot traffic. Learn more about each type of laminate manufacturing process:
The

direct-pressure method

fuses all four laminate layers at once. This method makes the most affordable and common types of laminate flooring.

The

high-pressure method

fuses laminate's layers one at a time with higher amounts of weighted pressure and heat to produce the most durable forms of laminate flooring, making it ideal for commercial spaces.

Laminate Maintenance & Care Tips
When it comes to maintaining your floors, we believe simpler is better. Designed to resist regular use and heavy wear, laminate is perfect for active households. All homeowners need to do is regular mopping, sweeping, or vacuuming. Follow these easy cleaning and maintenance tips to keep your laminate floors looking beautiful for years to come:
Sweep, mop, or vacuum regularly

Always use a manufacturer-recommended floor cleaner

Avoid scratches by adding felt pads on heavy, moveable furniture
Laminate Flooring Installation Made Easy
Buying a new floor and replacing an old one can seem like a daunting task for a first-timer, but when you buy from us, it couldn't be easier. Our service starts with a free in-home consultation and measurements, where you learn what will work for your home and how much material you need beforehand. When you begin shopping, you can try before you buy via our Design at Home shopping feature. This easy and free process allows you to see what various designs will look like in the space you plan to renovate.
Once you have chosen the perfect pattern for your home, our skilled installation crew takes care of the rest. They have the knowledge and expertise you need to perform your project correctly the first time. With us on your side, you can trust that your floors will look better than they ever have. Laminate is one of the easier floors to install and can often be done over the existing floor, which lets you enjoy your new investment faster. Our installation services and products are all backed by generous warranties, including our Ultimate Confidence Guarantee. Should you be unhappy with your new floors, contact us within 30 days and we will replace it at no extra cost. Ready to learn more about our laminate flooring?



Contact us to start your project today! We proudly serve clients in Bradenton, Sarasota, North Sarasota, Palmetto, Florida, and the surrounding communities.