Upgrade Your Home With The Charm of Hardwood Flooring
Are you looking for elegant flooring that brings a timeless, classic look to your home? Stop by Flooring America of Bradenton and explore the many possibilities of our hardwood flooring selection. For centuries, hardwood flooring has been a leading flooring material. Rustic, eclectic charm meets durability and longevity as America's most sought-out flooring type. From the warm and inviting tones of maple or mahogany to the rich ambiance of oak, our showroom in Bradenton, FL, has it all!

Whether upgrading one room in your home or remodeling an entire office space, our team is here to provide you with comprehensive hardwood flooring installation services from our wide selection of available hardwood flooring products. Our number one priority is to ensure we have a thorough understanding of each client's needs in appearance, performance, and even price. Make a change that you will love for years to come by investing in brand-new hardwood flooring.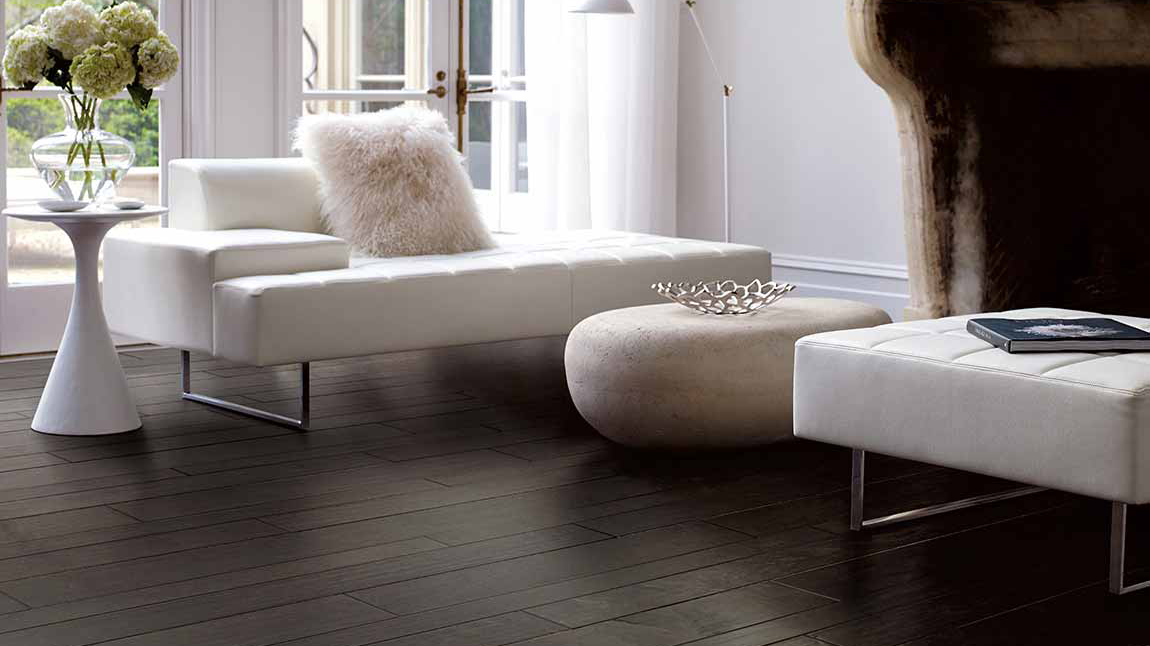 Solid vs. Engineered Hardwood Floors
With our extensive buying power, we have a wide variety of hardwood floors available at affordable, budget-friendly prices, including solid and engineered hardwood flooring. No matter your budget for your home remodeling project, you can take advantage of our stock and enjoy stunning new hardwood floors. With so many options for grain patterns, finishes, and species to choose from, you may find the experience a bit overwhelming. That is why our flooring design professionals help you find the right choice for your home. You tell us about the room in question and the décor you have, and we'll provide you with a list of targeted options that match your needs. We aim to send you home with flooring that you will love, so we are happy to spend time describing our products and answering your questions. Learn more about our hardwood selection:
Solid hardwood flooring

is a traditional style of wood floors where each plank is made from a single, solid piece of wood. Each plank is typically ¾ inch thick and made entirely of premium hardwood. Since it's completely solid throughout, you can often sand and refinish your solid hardwood floors to meet your ever-changing style needs. This eliminates scratches, stains, dents, and other imperfections. While solid hardwood is a beautiful flooring, it can be susceptible to warping in humid or moisture-prone environments. Due to this, we recommend installing your solid hardwood flooring in above-grade and non-moisture-prone rooms.

Engineered hardwood flooring

is created from laminate layers. This layered design adds stability and prevents the wood from warping from moisture and humidity exposure. A real hardwood veneer at the surface, meaning engineered and solid hardwood look identical from above. This type of hardwood is more affordable and durable. The only disadvantage to engineered hardwood is you can't usually sand and refinish as often as solid wood. This depends on the quality and thickness of its top layer.
Benefits of Selecting Hardwood
Adding new hardwood flooring to your home is transformative from the very first plank. Selecting hardwood as your new flooring will benefit your home and lifestyle. Dazzle your guests and walk into a home you love each day when you choose from our solid or engineered hardwood selection. No matter your style preferences, you're sure to enjoy all of the following benefits:
Enhances the look and feel of your home by adding

a touch of elegance

.

Low maintenance and

easy to keep clean

.

Adds value

to your home.

Solid

and

durable

, meaning it can last for decades and is an excellent

long-term investment

.

Helps improve interior

air quality

.

Looks

great with any decor

style.

Comes in

various appearances

, colors, styles, stains, and species.

Improves acoustics

in your space.
Keeping Your Hardwood Floors Like New
It's important to give your hardwood floors the proper care they need to maintain their like-new shine. You can prolong the life of your hardwood flooring by following a few simple steps:
Sweep and dry mop regularly.

Put down rugs on high-impact spots and areas exposed to a lot of foot traffic.

Maintain moisture levels by installing a humidifier in the winter and a dehumidifier in the summer. This helps prevent the wood planks from warping.

Damp mop your wood floors with a little soap and water or a wood-specific cleaning solution for a deeper clean.

If you want your hardwood floors to be extra shiny, you can purchase a wood polish that can be used every 2-4 months.
Professional Hardwood Flooring Installation
Purchase from us to take advantage of the Ultimate Confidence Guarantee available from our flooring store. Customers that purchase from our showroom are covered by a warranty that includes their purchase price. If you find a lower price on the exact flooring style you just purchased, you get a refund for the difference. Following through with our professional hardwood flooring installation also gets you coverage for the installation. We will replace your flooring if you are not happy with 30 days of the time of service. Finally, for the lifetime of the flooring, any installation-related repairs are paid for by us.


Contact us today to schedule a free estimate and initial consultation for a new set of hardwood flooring. We are proud to serve clients in Bradenton, Sarasota, North Sarasota, Palmetto, Florida, and the surrounding communities.